John Marasigan AOS BA LMT CMT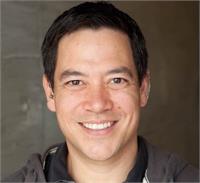 John Marasigan has been a massage therapist for over 15 years and has been teaching for 13. His specialty is Deep Tissue Sports and Medical Massage Therapy. After graduating with degree in Massage Therapy from the Swedish Institute in New York City, John became licensed to practice massage in the states of New York & California. He is also Nationally Certified and is an approved provider for continuing education through the NCBTMB. John has owned Sports Massage Clinic and school where he administered massage to athletes and sports active individuals, and taught licensed massage therapists John is very excited to be a part of the Somatherapy Team.
John Marasigan AOS BA LMT CMT instructs the following:
Students learn to give a cohesive, one-hour Swedish massage, using the strokes of the Swedish repertoire. Students will also learn contraindications and indications, basic muscular anatomy, and introduction to business and ethics. The class consists of 60 hours of hands-on training plus 75 hours of mandatory clinic.

Requirements for completion: At the end of this class the student will give a final massage for a grade. To successfully complete this class, students must achieve a grade of 70% or better with the hands-on practical exam. Student must also have completed all hours for this course and fulfill his or her 75 hours internship in the Somatherapy student clinic.

Duration: 135 hours (clock hours)




Stretching is an integral part of keeping the body healthy and mobile. This course teaches students to stretch a variety of active people. The principles and techniques of stretching, flexibility and Proprioceptive Neuromuscular Facilitation (PNF) will be taught. Deep Tissue II, Swedish Massage and Kinesiology Prerequisites. 32 hours.




This course deals with basic injuries, and the pathology behind them and hands-on skills to address each injury and bring the client back to an active life efficiently and safely. Student's learn the physiology of stroke and how/when to apply them based on client situations. Topics include the inflammation process, sprains, strains, tendonities, shin splints, frozen shoulder to name a few. Class is useful for all types of therapists not just those interested in a clinical career. 32 Clocked Hours




Inflammation and Tissue Healing

This Medical course teaches inflammation and tissue healing related conditions: inflammation process, scar tissue massage, tendinitis, medial and lateral epicondylitis, ITB, runner's/jumpers knee, rotator cuff/Supraspinatus tendinitis, "shin splints and TMJ.

32 Clocked hours.